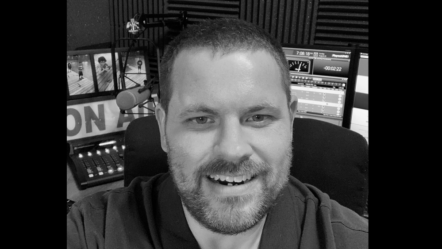 Ken Cunningham 3pm-7pm
"I was born and raised in Central IL, worked for various stations all over the Midwest, but now proudly call upstate NY home! I am the proud parent of 3 kids, twin boys, and a little girl who keeps the twins in line! I have two rescue boxer-mix dogs, who much like my children, are wild and crazy, but also very sweet and adorable. When I'm not playing music on the radio, or busy with my kids' activities, I can usually be found playing music weddings, dining out, hiking trails, or traveling."
Five Random Questions:
1) You're always posting pics social media… you've got your own basketball team.  How much $ do you think you'd have in the bank if you decided not to have kids?
Probably about the same because if I didn't have kids, I'd just spend it on my dogs, traveling, and buying random stuff I don't need!
2)Before joining the 102.7-103.5 air staff, you were on our sister station 94.7 Hits FM, which station plays music closer to your genre?
I'm at that perfect age where both are pretty close, and I genuinely enjoy the music on both stations, but 102.7-103.5 WICY is probably a tad bit closer these days!
3)When you're not jamming tunes for the drive home, what's your favorite hobby?
Roller Coasters! I've been to almost every theme park in the United States, Cedar Point is definitely my favorite and it's just a "short" 9-hour drive from Malone! Yeah, I also love to drive.
4)You're an 80's geek, right? Which video game did the most damage to your grades?
Pretty much every game Nintendo had out. My daily routine consisted of saving the princess on Super Mario Brothers, then switching over to Contra (up up down down left right left right B A start (if ya know, ya know lol), followed by The Legend of Zelda, then I'd close out the day playing Double Dragon with my dad before bedtime. Awwww the good ole days!
5)Would you ever let us post a picture of you in the 80's?
Yes. I was pretty young in the 80's so those pictures aren't near as embarrassing as photos of me in the 90's. I went through a phase in the 90's where I wanted my hair to look like Bill Clinton's. Yeah, I was an odd child. Now I'm an odd adult!