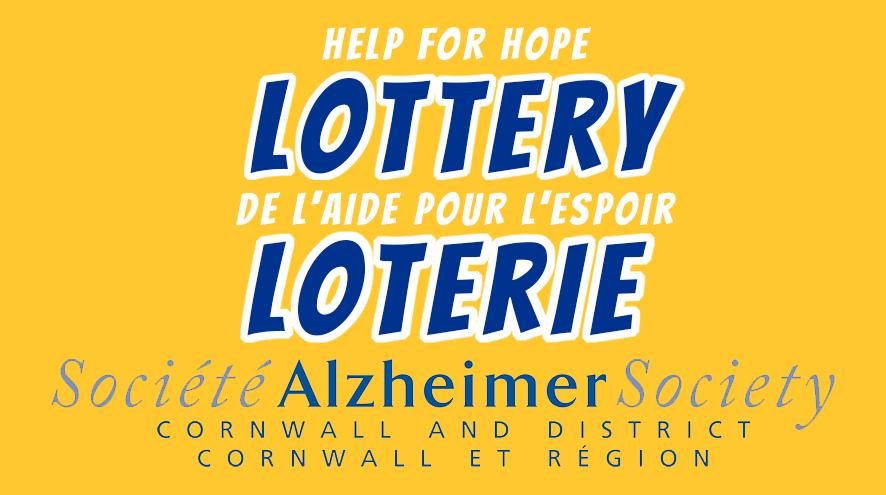 Call (613) 932-4914 to purchase your tickets
Starting on October 4th, 2021, the Alzheimer Society Cornwall & District will be launching the Help for Hope Lottery. This year, a Grand Prize of $5,000 will be drawn on January 26th, 2022. But that's not all, we will also have early bird draws on November 5th, 2021, and December 3rd, 2021, for $500 each!
Tickets will be sold for $10 each or 3 for $25. You can purchase your tickets at our Cornwall Office at 106B Second Street West, or by phone by calling (613) 932-4914. If you prefer to send your payment by mail, we included a payment form with this letter. Once we receive your completed form, your tickets will be returned by mail. It's that simple!
Only 5,000 tickets are available. Participants must be over the age of 18 and a resident of Ontario.
Every draw will be held at our Cornwall Office and streamed live at 2 p.m. through Facebook. Make sure to follow us on Facebook to get all the latest news and information from our Society.
All proceeds will go to support local programs and services offered by the Alzheimer Society of Cornwall & District, such as caregiver support, education and adult day programs. Your participation in this lottery will make a difference in the lives of people living with dementia and their caregivers throughout the five eastern counties.
If you would like to learn more, or have questions about the lottery, please contact us at (613) 932-4914 or by email at info@alzheimer-cornwall.ca.