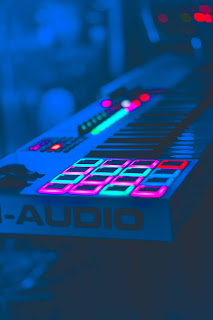 Each decade has brought with it, its own set of events, fashions, movies, TV, shows, and music. The sixties were rock n' roll and the Beatles, and then the hippy movement. The seventies saw glam rock, disco, and punk arrive.
The 1980s meant boomboxes, new romantics, Duran Duran, Madness, Cyndi Lauper, highlighted hair, and Meatloaf (the musician, not the food.)
Today may be the ideal time to revisit some of these music artists and learn how to play them yourself.
Why would you want to recreate music from the 1980s?
During 2020 there was something of an uptick in the number of people trying to learn a new instrument. Clearly, the lockdowns had some effect as millions of people started new hobbies or enjoyed new activities.
Demand on the internet for musical instruments grew swiftly. So much so, that many dealers and manufacturers have struggled to keep up with demand. Forecasts for guitar deliveries went from days to weeks, and eventually, to months.
Learning an instrument can be highly beneficial, and pairing it with music that you love could make it a highly enjoyable hobby. Therefore, for '80s lovers, it makes sense to take a trip back there.
What instruments would you need?
The likelihood of you owning more than one instrument is possibly low. That's no problem as '80s music was largely made up of bands who played 'real' instruments. However, you can replicate some parts through apps and pseudo drum machines.
Popular instruments in the 1980s would have been guitars, drums – both analog and digital, bass guitar, keyboards, pianos, and synthesizers.
If you play the piano or the keyboard then you will have a wide range of songs to pick from when it comes to this decade. Human League, Soft Cell, Spandau Ballet, and Duran Duran, all had keyboardists. Indeed, looking back, it seems that a band without a keyboardist would be quite rare. Who can forget the synth-pop sounds of "Bronski Beat", and the keyboard line from "Small Town Boy?"
If you need the
piano chords
from "Small Town Boy", simply upload them to an app online and they will be there for you to see.
What are the best ways for you to learn these '80s songs?
If you are a total newcomer at playing an instrument then you could search on YouTube for some tutorials. There are many channels where very good guitar players will show you how to play various guitar intros and riffs.
The piano is not neglected either. There are tutorials, lessons on how to read sheet music, and many other resources for a piano student to use.
Another way for a beginner to learn is to use a professional teacher. Depending on what your budget is, you could take a few lessons to get a good grounding in the basics.
When you are
learning to play the piano
it is important to be able to read a chord diagram. Fortunately, there are lessons online for this too, and they will explain the keys and notes on a piano. This will help you play your favorite 1980s songs easily on any piano.
Can you record at home?
If you are having some serious fun recreating some tracks from the '80s, then why not record them and put them online?
Using free and easily available software such as Garageband will let you lay down your tracks, mix them, and save them for use online. Alternatively, record your efforts through your phone and upload to YouTube.
Be prepared for some feedback though, millions of people love the songs from the '80s and they might not all appreciate you murdering their favorite!
Can you get help making your music online?
If you find yourself short of music from the eighties, then don't sweat. The internet is your savior and YouTube is likely to have almost anything you need.
There are many
ways to download music to your computer
, but be sure you are doing so legally. If you are using Chordify or another app to view piano chords then you can upload your own music to do so, or search their library first.
Social media can help too. Reach out to 1980s groups for suggestions, advice, and assistance. You'll probably find there are others out there who are keen on trying to recreate some 1980s moments too.
What songs should you be looking at?
The 1980s is varied and the content strong. Of course, there are numerous forgettable songs from that era, but some names are unforgettable.
When it comes to ballads and power, not to mention big hair, Meatloaf, Heart, Foreigner, and Pat Benatar, all had hit records during that decade. Pop was as the name suggests, popular too.
The Top 50 from that year shows a roll-call of names that will bring back memories to anyone who lived through that decade.
But the eighties were more than this one chart, and the music changed as the decade progressed. If you want to choose songs to learn on your guitar or keyboards, then consider Lloyd Cole and the Commotions, The Smiths, Bryan Adams, Wham!, Duran Duran, The Jam, David Bowie, and Blondie.
Perhaps one of the most memorable guitar riffs from English music came from The Smiths, and Johnny Marr. Try learning the intro for This Charming Man.
Oddly, the only act before Frankie to do the same feat also came from Liverpool. Gerry and the Pacemakers hit the number one spot with their first three singles too.
However, if learning to play the "Power of Love" is not your thing, don't worry. The eighties offered something for everyone.
If you want to learn some scorching riffs, intros, and solos, then look no further than Guns n' Roses. Fortunately for anyone who finds pop a little weak, and has no interest in learning Foreigner, "Sweet Child o' Mine" was released in 1987 and remains a classic.
Summary
The 1980s saw the home VCR become popular, and it also saw the end of the original Star Wars trilogy. ET phoned home, The Goonies saved the day, and "Stand By Me" introduced non-horror Stephen King to teenagers everywhere.
For many, the fashion of the eighties was important, and can be looked back on now with a mixture of affection, and sometimes horror. But out of all the stuff that happened in the eighties, perhaps the music has lasted the longest.
Some of the bands such as The Smiths, have influenced many since, and continue to remain popular. If you have just started playing piano or guitar, why not try to copy something from back in that exciting decade?